Multi Signal Audible Alarm V3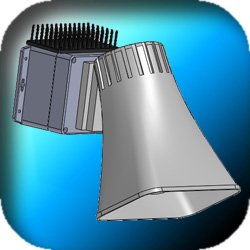 The Multi-Signal Audible Alarm V3 by WMC provides dynamic annunciation and signaling capability to equipment with the power to be heard over the background of the industrial environment. The V3 unit incorporates a Paging speaker to greatly enhance the volume of the projected sound as well as the volume boost circuitry to maximize the output available in a noisy industrial environment. The alarm signal is not limited to a simple preset selection of generic tones, but instead is read from a user configurable .wav file that can be any audio the user desires, from voice recordings of instruction and warnings, to any alarm sequence or tone, to full music.
The system is powered by 24V DC. and draws 2.5A at full volume, however this is dependant on the musical profile selected and will usually be less.
Visual signaling is available allowing indication of alarm state, in high intensity single color, or dynamic Omni-Color.
Communcations protocols can be integrated to trigger alarms and visual indication states from networks and serial links. Contact WMC for communication requirements.
(click to expand)
4 Input signals expandable
AC Power / Input
Connections
Alarm Light
Custom
The system comes standard with 4 input signals enabling 15 alarm sounds. this can be expanded to meet custom requirements as desired.
Input circuitry modified to accept signals and power the alarm from a 110V source.
Other voltages can be accommodated, contact WMC with requirement.
Base model comes with M12 circular plugs. Other connection types can be accomodated as requested including Terminal Block, and flying leads.
Wireless and wired Ethernet options are under development

Visual Indicator of alarm signal, available in high intensity single color, or dynamic Omni-color to signal visually as required.
Custom builds and other options available on request, and can be designed as required any requirement can be met with a custom design, from one off single units, to full production.
Quistart guide for setup.